Business Life Insurance
Employee Group Life
Low cost group options provide security in the event of the ultimate loss. Group term life insurance is usually inexpensive, has guaranteed issue, and is a way to show your employees how much you value their contributions to your company. Plans can be configured to allow coverage for the employee's spouse and children as well.
Key Man Insurance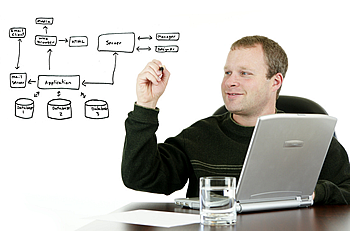 Congratulations! You've just landed the biggest project of your company's history! And this => guy? He's the lynchpin of the entire project. He has been involved since the beginning, understands what the clients want AND all of the details how to make it happen. Unfortunately for you (and him), he was involved in a fatal car accident on the way to work this morning.
Are you concerned about how your company would continue to function if you lost a key person? Maybe that person has a specific skill-set that would be difficult to replace? We also offer "key man" life insurance. While nothing can replace that person, the coverage will provide a benefit to help your company get back on its feet and give you time and funds to help you find a suitable candidate for the job.
Protect your business as well as the integrity of the ownership by making sure all of the principals are covered via this life insurance option.
Personal Life Insurance
What Kind of Life Insurance?
There are many different types of life insurance policies. We will ask you questions about your life & family in order to determine what might be the best options for you. Nobody really wants to think about death, but life insurance helps the people left behind. Some of our providers will even offer multiple policy discounts on your home and auto insurance if you purchase Life Insurance from the same company! Agency Associates has developed relationships with many life insurance companies, so we can find the perfect fit for you.
Term Life – Inexpensive insurance pays a predetermined amount if you die within the term of the policy. There is no cash value from the policy.
Whole Life – A policy that builds cash value for retirement, but also pays out a pre-determined amount if you expire before it matures.
Universal Life – A hybrid policy that has features of both term and whole life.
Youth Life – Usually term life policies with extremely low premiums and smaller benefit levels than adult policies
Easy Issue Life – No exams required and no medical rating. If you can answer "no" to a handful of questions, the policy can be issued here in our office for anywhere from $25,000 to $90,000.
Annuities – Provides you with income for your retirement years.
https://www.erieinsurance.com/life-insurance/calculator
CALL US TODAY TO SCHEDULE A TIME TO DISCUSS YOUR NEEDS 330-854-9010
Protect Your Family - Protect Your Future
A solid LIFE INSURANCE plan put in place today can guarantee than your assets and your family's future will be protected should a worst-case scenario - your death- ever occur. We invite you to come and find out how to properly plan for tomorrow, next year, and on down the road. Agency Associates will help you look at your entire picture to find your most complete (and affordable) protection package. Shop today - you don't have to pay anything until your policy is approved
Learn More About Life Insurance