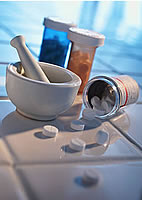 Many of our clients have seen HUGE savings on their prescription costs by making use of the new $4/month and $10/3 month supply generic prescription lists at their local pharmacies. You don't even have to run your prescriptions through your insurance to use the program. Just locate your prescription on one of the following lists and have it filled at that pharmacy. Not all generics are included in all lists, so you might have to compare lists to see if you can locate your medications.
In addition to the programs below, our agency has also negotiated a no-cost Prescription Drug Discount Card through the Canal Fulton Chamber of Commerce. Enjoy average savings of 19-20% on brand name drugs and average savings up to 79% for generics! Cards can also be used for the purchase of diabetic equipment, vision expenses, and hearing aids.

Also, many of our providers offer online access to your prescription benefits and mail order information.